Central Console
Helps to centrally manage UTM servers.
---
Safe Center is a central console that will help you administer multiple SafeUTM servers at once. Currently does not require licensing and has no restrictions on use. Automatically propagates security policies to all connected SafeUTMs, even if they were connected after the policies were configured.
Opportunities of Safe Center:
Creation of security policy rules (firewall, content filter, etc.) and objects that are transferred to connected SafeUTM servers at the same time;
The transition from Safe Center to the web interface of connected SafeUTMs;
Management of administrator access rights. However, Safe Center administrators have access to connected UTMs, but connected UTM administrators do not have access to Safe Center.
Learn more about how security policies and objects work in the Policies and Objects articles.
Technical requirements for servers and virtual machines:
RAM - 8 GB;
UEFI;
Disk space - 64 GB;
Two processor cores;
One network card;
Supported hypervisors: KVM, ESXi, hyper-v
You can request the installation file from your Manager or Tech Support. The Safe Center installation process is similar to the SafeUTM installation process.
---
Connecting Safe UTM to Safe Center
If a cluster is used in the connected SafeUTM, it is enough to connect only the active node, the passive one will automatically accept this setting.
The network connection is made in the direction from SafeUTM to Safe Center, i.e. communication is also possible when SafeUTM is behind NAT.
To connect SafeUTM to Safe Center:
Go to Server Management -> Central Console;
Enter the IP address or domain name in the Server field and click Connect: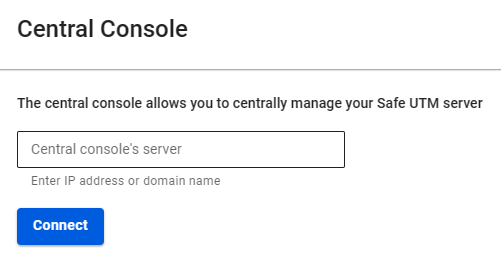 If the Safe Center IP address is listed instead of the domain name, upload the Safe Center root certificate to SafeUTM: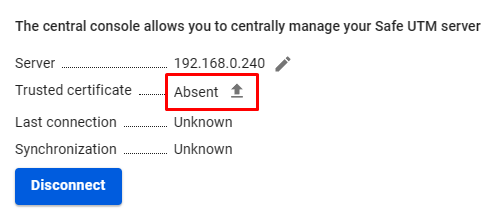 You can download the root certificate in the Safe Center, section Services -> TLS Certificates.
In the Safe Center interface, go to the Servers section and confirm the connection.

If the Safe Center server is behind NAT, enter the IP address or domain name in Server Management -> Additional settings -> Central Console's Address.
Removing the SafeUTM server from the Safe Center will break the binding in the SafeUTM interface:

Switching from the Safe Center web interface to the SafeUTM web interface
Safe Center provides two ways to switch to SafeUTM:
Go to the Servers section and click on the eye icon:

The SafeUTM web interface will open in a new tab.
Click on the dropdown icon in the upper left corner and select the desired UTM: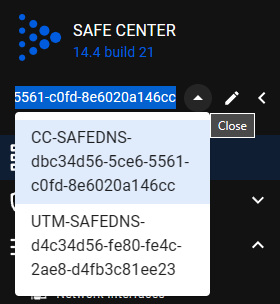 The SafeUTM web interface will open inside Safe Center window.